Optibac Probiotics For Every Day - 90 Capsules
SKU:

101435

UPC:

5060086610482
Friendly bacteria digestive supplement
A daily digestive supplement - 5 billion live cultures scientifically proven to reach the gut alive
Highly researched - Includes strains extensively studied for over 20 years
Synbiotic - Combining live cultures with FOS fibres to increase your body's natural gut bacteria
Expertly formulated - A sugar-free alternative to yoghurt and yoghurt drinks
A more natural choice - Lactobacillus, Bifidobacterium and Lactococcus naturally occur in the digestive tract
A great place to start - Offers great value for money, perfect to begin your friendly bacteria journey and for daily maintenance
From the UK's most recommended brand - Optibac is the brand of friendly bacteria supplements most recommended by UK consumers^
Who is it for?
For those wanting to take a high quality friendly bacteria supplement every day. It contains 6 well-researched strains as well as FOS fibres, which together help to complement & increase your natural gut bacteria. Every Day is a great place to start your good bacteria journey.
Can you take live cultures long term?
Some people like to take specific live cultures strains at certain times, for example during pregnancy, or during the winter flu season. However, most people prefer to take a daily live cultures supplement on an ongoing basis to complement their gut bacteria.
How does Optibac Every Day compare to other daily friendly bacteria supplements?
If looking for alternatives to brands like Symprove, you should compare the cost, the recommended daily amount, and the quality of the strains. A high-quality supplement always lists the full strain names of the bacteria, not just the species, so you can check the supporting research. Optibac Every Day is a great alternative to Symprove and other similar brands; it out-performs most comparable products not only on price, but also on quality of the strains it contains.
How many strains is best in a live cultures supplement?
The number of strains is not the most important thing to look for in a daily live cultures supplement. It is best to select a supplement containing highly researched friendly bacteria. Optibac Every Day contains the world-renowned Lactobacillus acidophilus/helveticus Rosell-52 and Lactobacillus rhamnosus Rosell-11®, proven to survive stomach acidity and reach the gut alive
Ingredients
Stabiliser: potato starch; Live cultures: Lactobacillus rhamnosus Rosell-11, Lactobacillus acidophilus/helveticus Rosell-52, Bifidobacterium longum Rosell-175, Bifidobacterium breve Rosell-70, Bifidobacterium bifidum Rosell-71, Lactococcus lactis Rosell-1058; Fructooligosaccharides (FOS 88mg), vegetarian capsule: hydroxypropyl methylcellulose; anti-caking agent: vegetable magnesium stearate; antioxidant: ascorbic acid
Each capsule guarantees 5 billion live cultures + 88mg FOS fibres.
Following the taxonomic updates advised by a global team of scientists and published in April 2020, a reclassification has been proposed for the L. rhamnosus species. The Lactobacillus rhamnosus strain in Every Day may therefore now also be known as Lacticaseibacillus rhamnosus Rosell-11.
Suitable during pregnancy
Suitable during breastfeeding
Suitable for vegetarian diets.
Dairy is not an ingredient. However, it is used in production. Any minute traces would not affect those with lactose intolerance.
Recommended use
Every Day can be given to adults and children, from 4 years onwards, with the following recommendations:
For best results take 1 capsule daily, preferably with breakfast
Intake can be increased to 2 capsules a day if desired, or as professionally directed
For those unable to swallow capsules, the capsule can be opened and contents mixed with a cool drink or food
Do not exceed recommended daily dosage
Drink plenty of water with your course of live cultures
Safety
Live cultures are not recommended for those with serious medical conditions e.g. those who are severely immunosuppressed, have pancreatitis, are in the ICU, have melaena, have a central venous catheter, infants with short bowel syndrome, or patients with open wounds following major surgery; unless under a doctor's care. Keep out of reach of children.
Gut health supplements are not intended to prevent, treat or diagnose any medical conditions. If taking probiotic supplements for gut health, note that these should not be used as a substitute for a varied and balanced diet and a healthy lifestyle. If you are taking any medications or have a serious medical condition, consult a doctor before use. Optibac supplements will not cause dependency and may be used on an ongoing basis.
Storage instructions
For best results, do not remove desiccant sachet from the glass jar and close lid firmly after each use.
Store in a cool, dry place below 25°C and out of direct sunlight. For maximum potency, can be refrigerated after opening.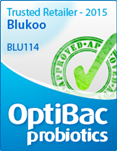 was shocked by the 30% increase in price in 3 months. paid it this time but not sure if we can afford to continue using this product.

Optibac everyday probiotics

Been using these probiotics for years now and would highly recommend them

Arrived safely and efficiently as usual

The help keep me healthy.

My son has eczema and this probiotic tablet seems to help his gut and so will continue to use it.

I regularly use these, great service as usual from Blukoo

My wife takes one daily and is very pleased more so when she saw the company feature on TVd

Will continue to buy the product via Blukoo

Best probiotics by far and I've tried a good few
Highly recommend

Excellent service, best price, and the best product. Using this particular product for almost eight years daily.